Leadlighting attempt with BP-48 plate
Hi everyone!
Missed yesterday's post unfortunately but my Internet was broken all day long and I had no way to upload anything :( This morning it seems to work, fingers crossed.
Today I have some attempt which you might like or think it's a complete disaster, you choose.
My black stamping polish is ready for garbage (I now got a new one) and worked awful when I stamped with my new BP-48 plate from BornPrettyStore. Therefore I decided to attempt my first ever leadlighting mani to cover the mess! I picked up a few Catherine Arley neons, which are super sheer, a thin nail art brush and started filling the stamping. I swear it was awesome in real life! I am so happy about it for being my first ever attempt and I can't wait to do more!
Ciao a tutti!
Purtroppo ho saltato il post di ieri perchè sono rimasta senza adsl tutta la giornata e non avevo modo di caricare foto e post. Stamattina sembra andare.. speriamo.
Oggi vi mostro una prova che ho fatto e che potrà piacervi o farvi pena :p A vostra scelta!
Il mio smalto nero da stamping ha tirato le cuoia mentre usavo la mia nuova plate BP-48 di BornPrettyStore. Per coprire l'indecenza ho deciso di provare finalmente la tecnica leadlight. Mi sono armata di pennello fino da nail art e smalti neon Catherine Arley e ho cominciato a riempire gli spazi. Vi giuro che di persona era bella! Sono stata molto contenta del risultato, specie pensando che era la prima volta che mi cimentavo in questa tecnica e che sono notoriamente impedita con qualsiasi forma d'arte a mano libera.
Yes, I know it's not perfect, but I still like it :)
This is the plate I used which is not to blame about the messed stamping. As I've mentioned it was the polish' fault.
Lo so che è tutt'altro che perfetta ma a me piace!
Questa è la plate che ho usato, che come dicevo prima non è la colpevole dello stamping venuto male.
I really like the Easter plate but darn, it's too late to release it now! Even if I order today I'd get it 2 months too late than Easter! Wrong timing BornPretty, wrong timing.
That's it! Cross your fingers that my Internet connections stays put!
Mi piace un sacco quella di Pasqua ma come si fa a farla uscire una settimana prima?? Che gli ordini ci mettono almeno un mese ad arrivare!! E mica solo da noi, eh! Pessimo tempismo BornPretty.
E questo è quanto! Incrociate le dita che l'adsl funzioni!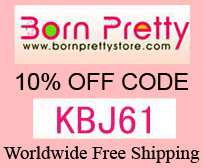 ** some items in this post were sent to me for free for review – alcuni oggetti in questo post mi sono stati inviati gratuitamente a scopo valutativo