P2 Cosy Home + BP-L018 stamping
Hi everyone!
This evening I'll show you a nail polish that deserves a better owner probably! P2 Cosy Home is a gorgeous pinkish nude. The colour itself looks great on my skintone BUT it's glassflecked! And you know I dislike glassflecks so bad. It also has got some added matte white glitters, which are awesome. I would have totally adored it if it was a shimmer!
These are two easy coats + top coat.
Ciao a tutti!
Oggi vi faccio vedere uno smalto che meriterebbe di stare in mani migliori. P2 Cosy Home è un nude rosato. Il colore in sè mi sta divinamente ma è uno smalto glassfleck! E lo sapete che è un finish che non digerisco. Ha anche un'aggiunta di glitter matte bianchi molto carini. L'avrei adorato se fosse stato un semplice shimmer.
Queste sono due passate + top coat.
Because I couldn't look at my nails with that finish alone I went for some stamping with
China Glaze Joy
and
BP-L018 plate
from
BornPrettyStore
.
Non riuscivo proprio a vedermi con lui da solo quindi ho deciso di stamparci sopra con
China Glaze Joy
e la
plate BP-L018
di
BornPrettyStore
.
Still couldn't like the finish so I top coated with Essence matte tc! Now this was reasonable for my taste!
Niente, ancora 'sto finish non andava giù! Che si fa? Top coat matte! E finalmente ci siamo :D
BP-L018 plate will come handy again around Christmas time I guess! It has got a lot of perfect (ugly) sweaters patterns!
Hope you liked both the polish and the nail art! Talk soon :)
La plate BP-L018 mi tornerà utile attorno a Natale, ha un sacco di disegni perfetti per fare gli orribili maglioni di lana :P
Spero che vi siano piaciuti smalto e nail art, vi ricordo che finalmente P2 si può trovare in Italia in sempre più OVS!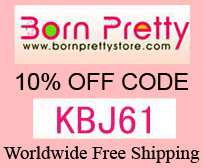 ** some items in this post were sent to me for free for review – alcuni prodotti in questo post mi sono stati inviati gratuitamente a scopo valutativo