Hi everyone!
Pretty quick post today because it's super late and I've spent the whole afternoon by the computer at work and my eyes are a little annoyed by that. Gotta rest them!
I'll show you the mani I wore for the whole week-end! It didn't bore me a bit! I started off with Astra Holo 705 and then made a three-some gradient with Astra Holo 704 on the base of the nails and Astra Holo 703 on the tips. The gradient is so well blended that you can't really tell it's 3 colours LOL :) But I swear there's them all!
Ciao a tutti!
Oggi post veloce perchè è tardi e sono stata al computer tutto il giorno al lavoro e adesso i miei occhi chiedono pietà!
Vi mostro la nail art che ho indossato per tutto lo scorso week-end e che non mi ha affatto stancata! Sono partita da Astra Holo 705 come base e ho creato una sfumatura con Astra Holo 704 alla base delle unghie e con Astra Holo 703 sulle punte. Ho sfumato così bene che in effetti non si capisce tanto che ci sono tre smalti, ma vi assicuro che è così!
The colours reminded me of a pond, where you have this gradient of green and blue for the water, sky and foliage all over. That's why I suddenly thought of dragonflies!
Unfortunately I completely confused the colours with locusts and I went for gold instead of black for stamping! Ugh! I still hope you get the idea of flying instead over a pond!
I colori mi hanno ricordato quelli di un laghetto o di uno stagno, con questi verdi e blu dell'acqua, delle foglie e del cielo. Ecco perchè mi sono venute in mente le libellule!
Purtroppo mi sono un attimo confusa coi colori delle (odiate) cavallette e ho stampato in oro invece che in nero. Umpf. Spero che cmq l'idea degli insetti che danzano sull'acqua si capisca!
For my stamping I used this insects' plate from
BornPrettyStore
which is
BP-74
. It's a pretty plate in my opinion and I was impressed that the pattern transferred perfectly even if it's quite thin. Or actually I shouldn't be surprised at all because BornPretty plates are really awesome!
Per stampare ho usato una plate tutta di insetti di
BornPrettyStore
, la
BP-74
. E' una plate caruccia e sono rimasta colpita che anche un disegno così fine si sia trasferito perfettamente. Veramente non dovrei essere affatto sorpresa ormai, le plate di BornPretty sono ottime!
And that was it! I hope you liked today's mani as much as I loved it myself. These are so much my colours! And holo, you know: holo!
Talk soon!
E questo era tutto per oggi! Spero che la nail art sia piaciuta a voi quanto a me. Questi sono assolutamente i miei colori. E l'holo.. insomma, è holo!
A presto!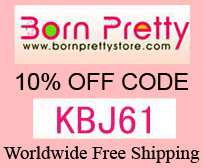 ** some items in this post were sent to me for free for review – alcuni prodotti in questo post mi sono stati inviati gratuitamente a scopo valutativo