Hi everyone!
I'm not over neons yet and today I want to show yet another one which won both my mani and pedi place!
This is the gorgeous Color Club Warhol, a bright neon pink which was released back in 2010 as a part of the Poptastic Neon collection and still available for sale. It has the most amazing application and it's almost a one coater (but more on that down the post), it's quite glossy and super neon!
First pic is two coats without top coat. Second pic is two coats plus top coat. I feel like top coat slightly darkened the colour.
Ciao a tutti!
Ancora non sono stufa di smalti neon e oggi ve ne mostro uno che è talmente bello da essere finito sia sulle mani che sui piedi!
Vi presento la meraviglia di Color Club Warhol, un rosa neon super flashoso (!) che è stato lanciato nel 2010 come parte della collezione Poptastic Neon ma che è ancora in vendita. La stesura è incredibile ed è praticamente coprente in una sola passata (ma di questo leggete sotto), asciuga abbastanza lucido ed è veramente neon a livello evidenziatore.
Nella prima foto sono due passate senza top coat, nella seconda con top coat. Mi sembra che il top coat abbia leggermente scurito il colore.
See how neon it is? I almost need glasses.
Fun fact is despite being very opaque the colour is buildable. On the first coat it's much more pink than on second coat. And if you do 3 it almost goes coral pink. The difference is very obvious! On my toenails I used one coat on the tiny nails and two on the biggest nail and it looks like I have two different shades as a pedi haha.
See below one coat, you can notice that it goes darker on the tips, that's because there's more polish there.
Vedete che effetto evidenziatore? Servono quasi gli occhiali da sole :D
Piccola curiosità è che, nonostante sia molto coprente, aggiungendo passate cambia. Alla prima mano di smalto è molto rosa, aggiungendo altri strati comincia a virare al corallo. La differenza è molto visibile. Sulle unghie piccole nei piedi ho dato solo una passata, mentre sull'alluce ne ho messe due e sembra che io abbia due smalti diversi.
In questa foto sotto vedete una passata sola, notate che sulle punte sembra più scuro? Ecco!
I had these decals from BornPrettyStore that I had to review and I thought Warhol could be a nice underwear for them. Unfortunately the pattern is not visible on my short nails eventually so I stopped at one and made it an accent nail. I finished the look adding some rhinestones which are way too thick for my liking.
I must point that the decals themselves are good quality and I could easily clean the extra around my nails with a brush and nail polish remover.
Avevo questo foglietto per nail art da recensire per BornPrettyStore e ho pensato che Warhol potesse essere una buona base per provarli. Purtroppo il disegno sulle unghie corte o medie come le mie non si vede, o cmq non si capisce cosa sia! Visto il risultato mi sono fermata alla prima unghia e ho aggiunto degli strass sulle altre, che però sono troppo spessi per i miei gusti.
Preciso che i decals in sè sono ottimi, si attaccano bene all'unghia e la parte extra si pulisce facilmente con un pennello o un cotton-fioc imbevuto di solvente o acetone.
I honestly feel like I wasted the chance to wear Color Club Warhol on its own by adding this stuff. I liked it much better without giggles, know what I mean?
I also wonder if using a white base and only one coat of Warhol would make it a super bright fuchsia pink instead. Gotta experiment, that would be an excuse to wear it again!
Do you own any Color Club neons, old or new? Are they all this good for a formula?
Mi sembra di aver sprecato Color Club Warhol aggiungendo questi "gingilli". E' talmente bello da solo!
Mi chiedo anche se usando una base bianca e una sola passata di Warhol il colore verrebbe super fucsia. Devo provare 'sta cosa, che è un'ottima scusa per rimetterlo :D
Voi avete qualche neon della Color Club, sia di quelli vecchi che di quelli nuovi? Sono tutti così buoni come qualità?
Vi ricordo che in Italia Color Club è distribuita e venduta da Imec Nails: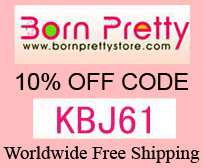 ** some items in this post were sent to me for free for review – alcuni prodotti in questo post mi sono stati inviati gratuitamente a scopo valutativo