Christmas ugly sweater - Winter nail art challenge
Hi everyone!
Time to take those ugly sweaters out of the wardrobe! I know you all own one! Mine is quite girly in grey and pink. And not only is it ugly, it's also not ironed! See that it's not straight? ;)
Ciao a tutti!
E' ora di tirare fuori quegli orribili maglioni dall'armadio. Suvvia, so che ne avete almeno uno! Il mio è abbastanza femminile, grigio e rosa. Però non ho avuto voglia di stirarlo, perdonatemi!
For my ugly sweaters mani I used Essence Romeo as a base and stamped over it with BornPretty stamping polish in peachblow* (they probably meant peach blossom?!) and BornPrettyStore's BP-L032 plate*. For the rubber finish I've used Color Club Matte-ified on top.
You know I really like BPS' stamping plates, but this was my first stamping nail polish from their own collection. And it works great! I gotta admit it smells quite bad but it's so opaque and just the perfect consistency for stamping. Now I know I definitely want more colours!
Dear Lothwen, now I know why you've got them all!
That was it! I hope you liked my girly sweater!
Per il mio bruttissimo maglione natalizio ho usato Essence Romeo come base e ci ho stampato sopra col dischetto-rettangolo BP-L032* e lo smalto apposito per stamping BornPretty nel colore peachblow*. Per dare l'effetto gommoso ho sigillato tutto col top coat Color Club Matte-ified.
Sapete già che sono una fan delle piastrine di BornPrettyStore, per quanto riguarda lo smalto invece era la mia prima volta. Sono sincera, puzza da morire, ma stampa divinamente!! Ha proprio la consistenza perfetta per questo tipo di nail art, ne voglio altri colori senza meno. Adesso ho capito perchè Manis & Makeovers se li è comprati tutti!
Questo è tutto per oggi, spero che vi piaccia il mio maglione!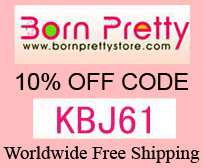 *pr samples – campioni gratuiti