Hi everyone!
Today's ABC letter is H and I went for some easy nail art instead of plain nail polish. My base is Color Club Take Me To Your Chateau and I attempted my first half moon manicure with it. Darker blue is TNS Cosmetics Night Life.
Ciao a tutti!
La lettera dell'alfabeto di oggi è H e mi sono buttata su una nail art invece che un semplice smalto. La base che ho scelto è Color Club Take Me To Your Chateau e, partendo da lì, ho provato la mia prima half moon manicure. Il blu più scuro è TNS Cosmetics Night Life.
I used some french manicure tip guides* from BornPrettyStore but I eventually messed up my ring finger. I lifted the sticker too quickly and smudged the edge. Totally my fault. I also think I've used the wrong tip guide shape for this kind of manicure. The round shape is quite wide and it results in a flat line on my index finger. I should have used the round stickers instead. Lesson learned I guess!
Other than that I really like using both classic and creative tip guides for nail arts. They are an easy way to get a pretty mani without needing to be a nail art pro. You just need to be slower that I was haha!
How do you like this half moon manicure? Are you a fan of tip guides as much as I am?
Ho usato delle guide per french manicure* di BornPrettyStore ma come vedete ho pasticciato con l'anulare. Sono stata troppo veloce a sollevare l'adesivo e il risultato è che lo smalto è colato sotto creando delle macchie. Mea culpa. Inoltre credo di aver usato una forma sbagliata per questo tipo di manicure. La curva dell'adesivo per la french classica è troppo ampia per la base delle mie unghie, e sul dito indice viene fuori una striscia dritta in pratica! Avrei dovuto usare gli adesivi rotondi. Lezione imparata!
Le nail art fatte con le guide da french, sia classiche che creative, sono una passeggiata comunque. Ci vuole davvero poco per una manicure diversa dal solito e che fa sempre riuscita. L'importante è non avere troppa fretta per non fare il mio stesso errore!
Che ne pensate di questa half moon manicure? Vi piace usare le guide per le vostre nail art?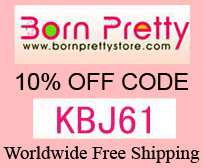 *pr sample – campione gratuito