Hi everyone!
This has to be the weirdest title I have ever used for a blog post. Can you believe this mani has been exiled in the draft folder forever only because I didn't know what to name it? Well, that's true, but it's done now. You can suggest a better title though!
My base is the gorgeous Bow Wind of Change and I stamped these fine lines with Kiko 623 and plate BP-67* from BornPrettyStore.
Reason I called this nail art "trapped in metal" is those lines look like metallic chains. Can you see that, too?
- - -
Ciao a tutti!
Penso che questo sia il titolo più inutile che io abbia mai usato per un post. Ci credete se vi dico che questa nail art è rimasta accantonata per quasi due mesi perchè non sapevo come chiamarla? Ebbene, è la verità, ma adesso è fatta. Liberi di suggerire qualcosa di meglio però!
La mia base è il bellissimo smalto termico Bow Wind of Change e ci ho stampato queste linee con il Kiko 623 e il dischetto BP-67* di BornPrettyStore.
Il titolo viene proprio da queste linee, che mi sembrano una specie di catene metalliche.
I should have used a thinner pattern to stamp over Bow Wind of Change. This one kinda hides both the colour shift and the holo sparkle which is a shame.
As for the plate it works perfectly, as any other BornPretty plate I've tried. I've also used a couple of the other patterns already and they work, too. Now I'm only waiting for some new release!
And that's it for today! You know I love stamping and I hope you liked this look, too!
- - -
Avrei dovuto usare linee più fini su Bow Wind of Change, perchè queste coprono un po' troppo il cambio colore e le particelle olografiche, ed è un vero spreco.
Per quanto riguarda il disco da stamping non ho avuto problemi, come tutti gli altri di BornPretty del resto. Ho già usato anche un paio degli altri disegni e anche loro hanno funzionato a meraviglia.
E anche per oggi è tutto. Sapete che adoro fare nail art con la tecnica stamping e spero che vi piaccia questo look!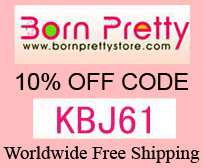 *pr sample – campione gratuito