[ITA & ENG]
Ciao a tutti!
Oggi torno ad uno dei miei primi amori: gli smalti camaleontici/multicromatici. Questo è uno dei nuovi colori della linea Chameleon di BornPrettyStore, il numero 32. Il sito indica chiaramente che questa linea di smalti necessita di una base nera. Come forse sapete io raramente uso il nero, preferisco altri colori, blu in primis. In ogni caso avevo sulle unghie lo smalto Astra Expert Gel Effect n. 30 Forever, che è un grigio scuro, e ho deciso di usare lui.
Su base grigia lo smalto Born Pretty Chameleon 32#* vira da viola a verde, passando per color bronzo. E' facile da stendere e l'effetto è davvero bello, con il cambio colore sempre ben evidente. Le particelle olografiche invece si perdono un po', dato che il cambio colore viene esaltato in condizioni di luce indiretta, mentre per l'olografico ci vorrebbe il sole.
In foto sono due passate di Astra e due di BornPretty, più top coat.
Hi everyone!
Today I'm back to my first love: duochrome nail polish. This is #32 from BornPrettyStore's new Chameleon range. On the web shop it's mentioned you need a black base underneath. As you might know I rarely use black, I like experimenting different base colours, blue probably being my favourite. Anyway, I was wearing Astra Expert Gel Effect n. 30 Forever, which is a dark gunmetal grey, and I just went with it.
Over this grey underwear Born Pretty Chameleon 32#* nail polish shifts from purple to green, getting bronze in between. It's very easy to apply and the colour changing effect is really pretty and always there. Holo particles get somewhat lost though, as duochrome nail polish gives its best in low lighting while holos require full sun.
Two coats of Astra, two coats of BornPretty, plus top coat.
Ma come sarà questo smalto senza base? Ho usato la mia mano destra da cavia, lasciando l'Astra solo sull'anulare, e stendendo 3 passate di Born Pretty Chameleon 32# da solo sulle altre unghie.
Sì, è decisamente più chiaro senza base, ma è comunque coprente. Al sole non si nota alcuna differenza poi.
Are you wondering what this nail polish looks like without a dark base? I used my right hand to show you! I left the Astra grey underwear on my ring only, and I've painted 3 coats of Born Pretty Chameleon 32# on its own on my other nails.
Yes, it's lighter on its own, but it's opaque. And under the sunlight you can see no difference at all.
Sono sempre perplessa dall'abbinamento olografico + multicromatico, da un certo punto di vista ha senso, se sei in casa hai il cambio colore, se sei al sole hai i glitter che luccicano. D'altro canto continua a sembrarmi un controsenso, e non mi convince mai pienamente. Preferisco i due effetti separati insomma. Invece voi cosa ne pensate? Vi piace questo doppio effetto?
I am always torn about holographic and duochrome effect together. It makes sense, because you have a pretty colour change indoors and you have the sparkly holo glitters outdoors, best of both. However I still feel like it's not right, and it doesn't please me completely. I prefer these two finishes on their own, not together. What's your opinion? Do you like this finish combo, if we can call it this way?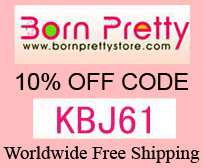 *pr sample – campione gratuito