[ITA & ENG]
Ciao a tutti!
Visto l'andazzo della stagione non appena vedo un po' di sole corro a mettere uno smalto olografico, anche se so che me lo godrò per poco. Oggi la scelta è caduta su uno dei nuovi colori lanciati da BornPrettyStore, il n. 23, un bel fucsia.
L'effetto olografico dello smalto BornPretty Holo n. 23* è di tipo lineare, ma il tipico arcobaleno è limitato ai toni del blu e per questo motivo risulta meno evidente.
Non ho usato un top coat per non diminuire ancora di più l'effetto, eppure questo smalto mi è durato ben 3 giorni intatto. Davvero ben fatto!
Due passate senza top coat.
Hi everyone!
Weather kinda sucks this year so I literally run wearing a holographic nail polish when I see a hint of sun. I know I won't enjoy it for too long though. Today's pick is one of the newest shades that BornPrettyStore released in their holo collection: n. 23, which is a pretty magenta.
BornPretty Holo n. 23*'s holo effect is linear, but the usual rainbow only shifts blue hues thus making it less visible.
I didn't use a top coat to avoid weakening the sparkle even more, still this nail polish lasted 3 days on my nails. Very well done!
Two coats, no top coat.
Dove sta la pecca? Nel rapporto prezzo-contenuto: solo 6ml per quasi 15€!! Ma sono pazzi? E per fortuna che questi smalti sono coprenti già con una passata! Ad ogni modo il prezzo di listino è spropositato, non vale proprio la pena comprarlo se non ci sono sconti in atto. Adesso ad esempio è un buon momento, mentre scrivo è prezzato 5,45€, già più accettabile.
Voi cosa ne pensate? Vi piace? Avete qualche smalto di BornPrettyStore?
Where's the flaw? The quantity vs price ratio is insane, in a bad way! 6ml for 16$, are you crazy? Fortunately this nail polish is opaque at first coat, at least! Anyway full price is way too expensive, it's not worth purchasing unless on sale. Good news is that it's only 5,99$ while I am writing this post, which is way better.
What do you think about it? Like it? Do you own any nail polish from BornPrettyStore?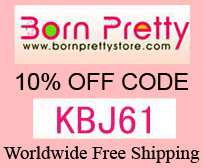 *pr sample – campione gratuito