Green and gold geometric nail art
[ITA & ENG]
Il dischetto BP-L005 è una vecchia conoscenza. A me piace molto ma le immagini non sono grandissime, e sicuramente non vanno bene per chi ha le unghie lunghe. E' perfetto per unghie larghe in compenso. La qualità è ottima.
Lo smalto dorato per stampa è stata una nuova scoperta. Quasi. Ho altri due smalti di questa linea e funzionano perfettamente. Quando mi sono resa conto che non avevo uno smalto dorato caldo per stampa ho deciso di rimanere sulla stessa collezione. E non sono rimasta delusa: anche lui funziona benissimo come i suoi fratelli. L'unica pecca, se può considerarsi tale, è che è talmente pigmentato che levarlo dalle cuticole è un'impresa. E infatti vedete l'alone giallo intorno alle unghie nelle foto. La prossima volta le proteggerò meglio!
Il look in generale mi piace un sacco. Non so se sia davvero geometrico o più astratto ma lo adoro e non lo volevo più togliere!
Spero che piaccia anche a voi e magari mi dite se per voi è una nail art geometrica o astratta!
BP-L005 stamping plate is an oldie but goodie. I really like it but the patterns are not too big and they won't cover long nails. They are perfect for large nails though. Quality is awesome.
The gold stamping polish is a new. I own two more shades from this collection and they work perfectly. When I realized I needed a warm gold for stamping I decided to stick to this collection. And I haven't been disappointed. This gold stamps as good as the other colours. Only downside, if it can be one, is that it's super pigmented and it's a mess to clean! You can see that yellow tint all around my cuticles, that's it. Next time I am gonna use latex or something to protect my cuticles area.
Anyway, I love the final look of this mani. I don't know if it's geometric or abstract but I adore it and I didn't want to remove it.
I hope you like it, too. Maybe you can tell me if you see a geometric nail art or an abstract one!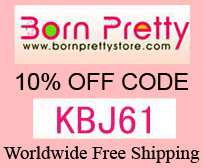 *pr sample – campione gratuito